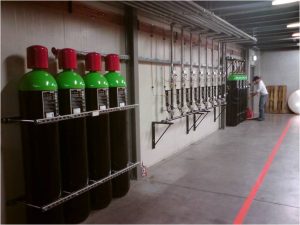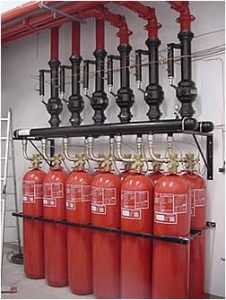 FM 200 (HFC227ea) ®
FM-200 is the brand name from the company Great Lakes for 1,1,1,2,3,3,3-Heptafluoropropane, also known as HFC-227ea. FM-200 belongs to the class of fluorinated hydrocarbons (HFCs) which are exclusively made up of carbon, fluoride and hydrogen atoms. The effect consists of cooling the flame and disrupting the chemical reaction of the combustion process. If exposed to flames, the FM-200 will emit small quantities of free radicals on the fire which inhibit the chain reactions responsible for combustion. Another important aspect is that FM-200 is not harmful to sensitive devices. It is a clean, gaseous substance without particles or oily residue. It does not cause a significant reduction of the oxygen content and is therefore also suitable for human-occupied premises. After it has been activated, it can be extracted through simple ventilation measures.
HFC-125
HFC-125 is a colourless, odourless and non-conductive gas. As with the other chemical extinguishing gases, it extinguishes fires through the extraction of heat. HFC-125 has the same physical properties as Halon 1301, however, it is not an ozone-depleting substance.
FE-13
FE-13 is a high-pressure extinguishing gas which is produced by the company DuPont. This extinguishing gas also works through the absorption of heat. Due to its own high vapour pressure, FE-13 does not require an additional carrier gas (nitrogen) when filling the extinguishing gas cylinder. FE-13 is best suited for the protection of goods in cooled rooms and rooms with a height of up to 7.5 metres. The no-observed-adverse-effect-level for this extinguishing agent is 50% and there is currently no extinguishing agent on the market with such a high safety factor for people in a room.